Alexander's is a family-owned hotel on the Masaki Peninsula, Dar es Salaam. The hotel was designed and built just 8 years ago by The Alexander's.
Alexander's is a contemporary building, with all rooms overlooking the lush garden and pool. Deliberately modern features contrast with a collection of antiques, thoughtfully collected over the years. Feel as if you have arrived home when you check-in. Hassle-free, relaxed, everything you could want after a long day of travel or work. Resembling a welcoming house from the outside, Gordon is often there to greet you when you come through the front door.
If you are lucky enough to stay for a number of nights you will no doubt meet Hobbit, Gordon's lively dog, playing ball out in the garden.
Eating Out & Shopping
The surrounding area has a wide selection of restaurants ranging from high-end seafood spots to more local venues. Please don't hesitate to ask us for a recommendation and to make necessary reservations for you. The Slipway mall, is a five minute walk away, featuring a market filled with Tanzanian nick-knacks, a number of cafes and restaurants, shops, hair dresser and dive centre. You may also organise a boat to the nearby Bongoyo Island from the Slipway pier.
Spa
There are a number of recommended spa facilities within minutes of the hotel where you can enjoy a relaxing massage or pamper yourself with a pedicure after a hard week of work.
Local Attractions
The Msasani fish market is only minutes away, and an interesting place to visit, best in the mornings or late afternoons when the fishermen bring in their catch.
Mwenge carvers market is located about 30 minutes away, where you can see beautiful ebony carvings on offer, and also meet the maker too. It's a large market selling masaai jewelry, and stunning woodcarvings.


Nearby Trips
Bongoyo and Mbudya islands are lovely options for day trips, easy to get to by boat at the Slipway or White sands and offer lovely white beaches, snorkeling, walking, swimming and a large seafood BBQ.
Zanzibar is only a short distance away, if you have a free weekend do not miss what this paradise spice island has to offer.
All the national parks are also very easily accessible from Dar.
We offer our guests the option of an airport transfer for $30. We have a selection of recommended taxi drivers that we can organise on request.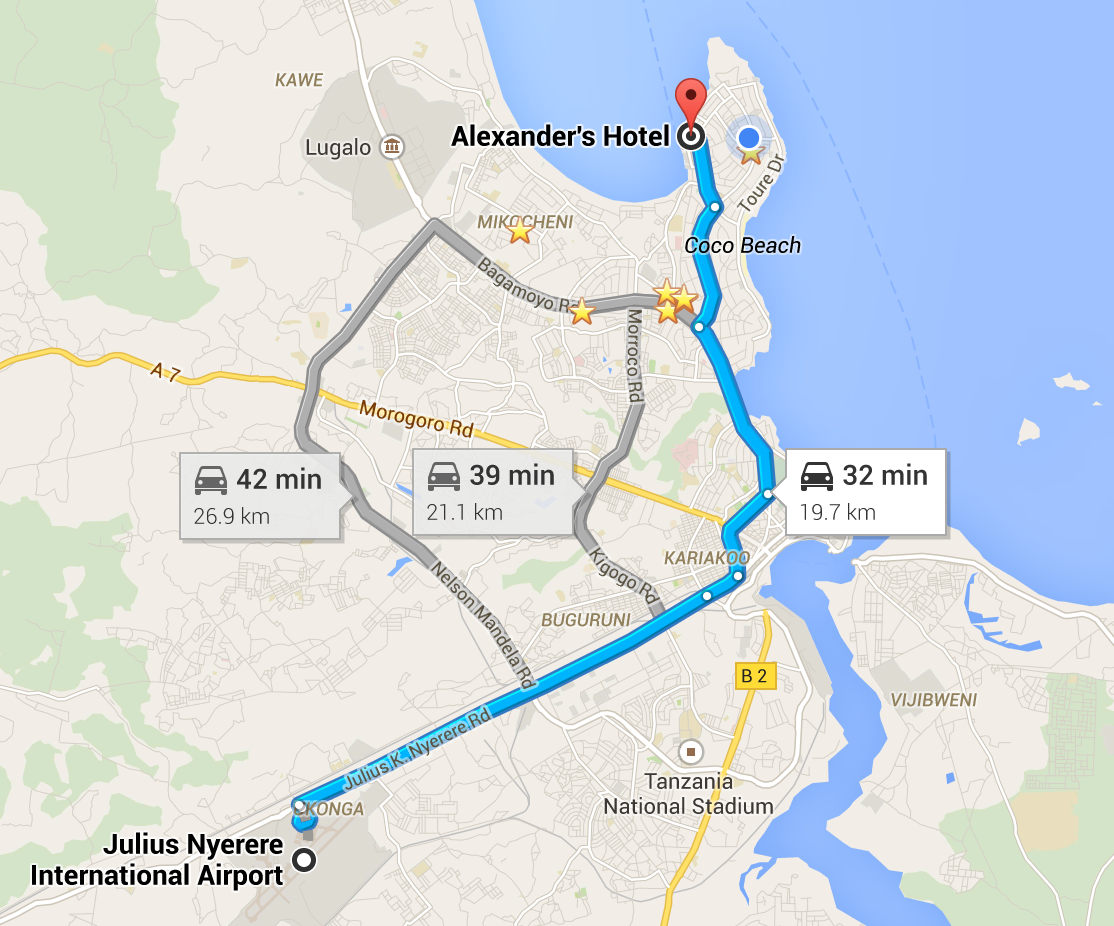 Climate
Dar es Salaam has a tropical climate so please pack plenty of sun screen as the sun is very strong. It is also a malaria zone, so please take all the necessary precautions. We do offer mosquito repellent in all our rooms and in the bar.
Clothing
Tanzania is a conservative country and so appropriate dress is encouraged when visiting very public areas particularly outside of the Masaki penisula.
Safety
Dar es Salaam is a relatively safe city, but it is still a city so please be aware of pick-pockets. We advise you do not walk with a bag and do not walk alone after dark.
This information is provided for your comfort and safety.